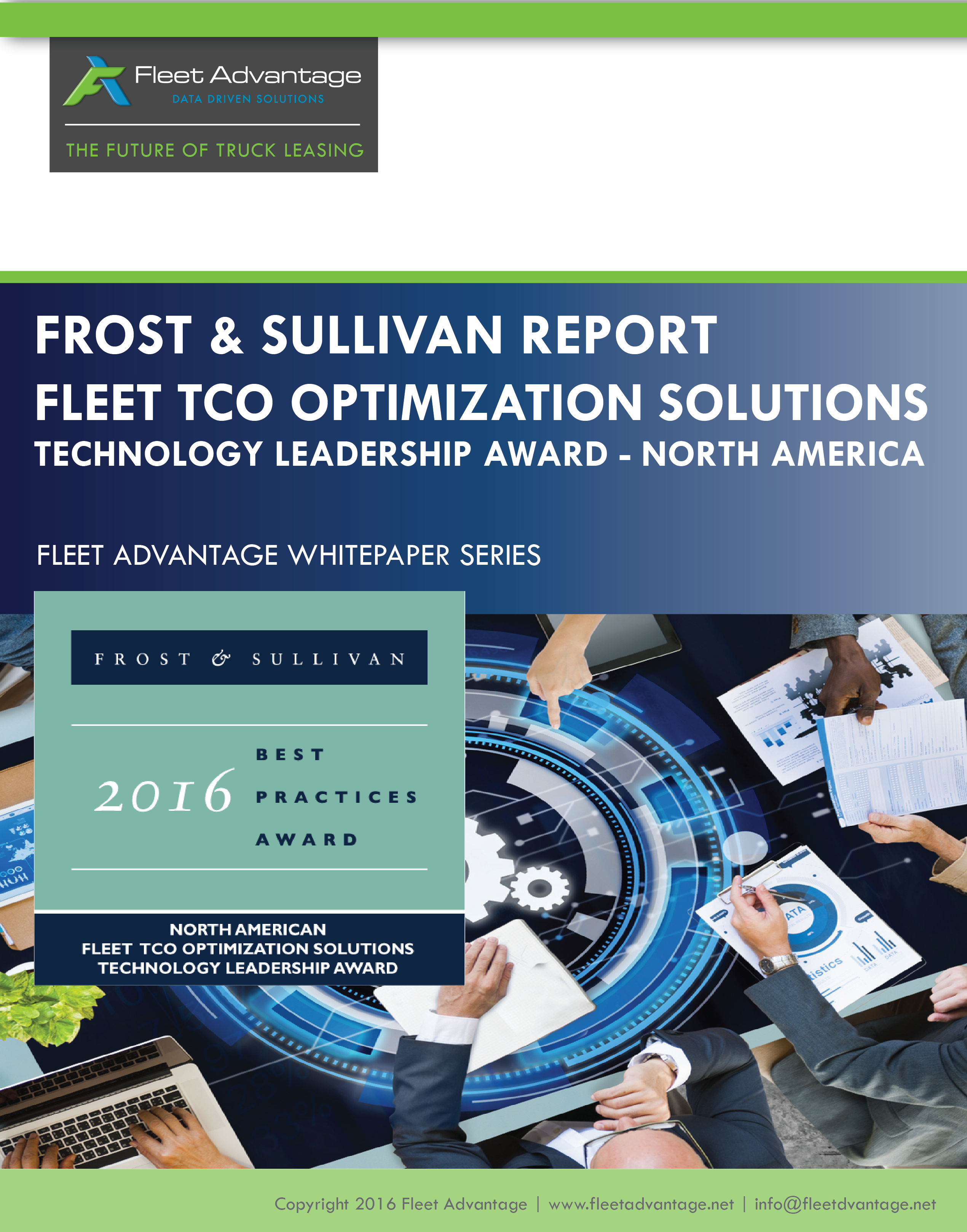 FORT LAUDERDALE, FL (May 31, 2016) – Fleet Advantage, a leading innovator in truck fleet business analytics, equipment financing, and lifecycle cost management announced today that it has been awarded the Technology Leadership Award for Fleet TCO Optimization Solutions in North America by the global industry research and consulting firm Frost & Sullivan.
The award recognizes Fleet Advantage's commitment to technology and innovation demonstrated by the company's Advanced Truck Lifecycle Administrative Analytics Software (ATLAAS), which allows private fleets and transportation companies to gain granular visibility into unseen costs and performance issues of their class 8 trucks, effectively reducing the total cost of operation (TCO).
Leading With Innovation
Frost & Sullivan confirmed that "ATLAAS has changed Fleet Advantage's business and is also changing the industry, as the software provides many benefits not only to clients, but also lending institutions, equipment manufacturers, and the general public. With the probability of Intelligent Transportation Systems (ITS) and Dedicated Short Range Communications (DSRC) on the horizon, Fleet Advantage is just scratching the surface on the amount of data intelligence and analysis that will become available in future versions of ATLAAS to assist clients in making logical, data driven decisions that will drive the lowest cost of operations of their fleet."
"On behalf of the entire Fleet Advantage team who continually finds ways to improve our ATLAAS offering, as well as our forward-thinking clients who use ATLAAS to radically cut their operating costs, we are honored to be recognized by such a respected research and analyst organization as Frost & Sullivan," said John Flynn, Chief Executive Officer of Fleet Advantage. "We remain committed to leading the transportation industry with innovative and data driven solutions allowing our clients to maximize the use of their assets while operating at the lowest possible cost per mile."
Driving Costs Out of the Industry
ATLAAS includes information on over 20,000 tractors and has saved Fleet Advantage clients approximately $40 million in operating costs and has reduced harmful emissions by 125,000 MT since the company's inception in 2008. ATLAAS uses proprietary business intelligence to determine a truck's economic "tipping point" and its proper lifecycle replacement timing.
To download the full report including full background and performance, award analysis, decision support scorecard, and research methodology, click here Technology Leadership Award.
About Frost & Sullivan
Frost & Sullivan, the Growth Partnership Company, enables clients to accelerate growth and achieve bestin-class positions in growth, innovation and leadership. The company leverages more than 50 years of experience in guiding clients toward transformational growth strategies by focusing on innovation opportunities driven by disruptive technologies, Mega Trends, emerging markets and new business models. Frost & Sullivan is focused on identifying "the next big things" in the industries it covers, including healthcare, so customers can reap the benefits of being early entrants to the market. For details, visit www.frost.com.
About Fleet Advantage
Fleet Advantage serves America's top heavy-duty truck fleets and guarantees the absolute lowest cost of ownership by providing truck leasing and matching proprietary data driven IT processes with fleet analytics using the latest eco-efficient clean diesel technology to achieve optimum vehicle productivity, while reducing fuel and maintenance costs. Fleet Advantage is ranked as one of the fastest-growing privately held companies in the state of Florida and the fastest growing independent truck lessor in the U.S. In 2015 and 2013, Fleet Advantage was also named to Inc. magazines' 500|5000 list of fastest growing companies in the nation. In 2011, CEO John Flynn was awarded the Florida Ernst & Young Entrepreneur of the Year® award in the "Emerging" category.
###