FORT LAUDERDALE, FL (April 26, 2016) – Fleet Advantage, a leading innovator in truck fleet business analytics, equipment financing and lifecycle cost management made public today their data index resource designed to compare all-in costs of older model year Class 8 trucks and calculate the savings of new model replacements.
Using insight from the company's ATLAAS program (Advanced Truck Lifecycle Analytics Administrative Software), the Fleet Advantage data index helps industry professionals make decisions regarding equipment replacement timing. Taking into account all-in operating costs of fuel, finance, maintenance and repair, and tires, the index calculates that companies would save approximately $18,081 per truck in the first 12 months of operation by upgrading from a 2011 model-year vehicle to a 2017 model and reduce their CO2 emissions by 14%.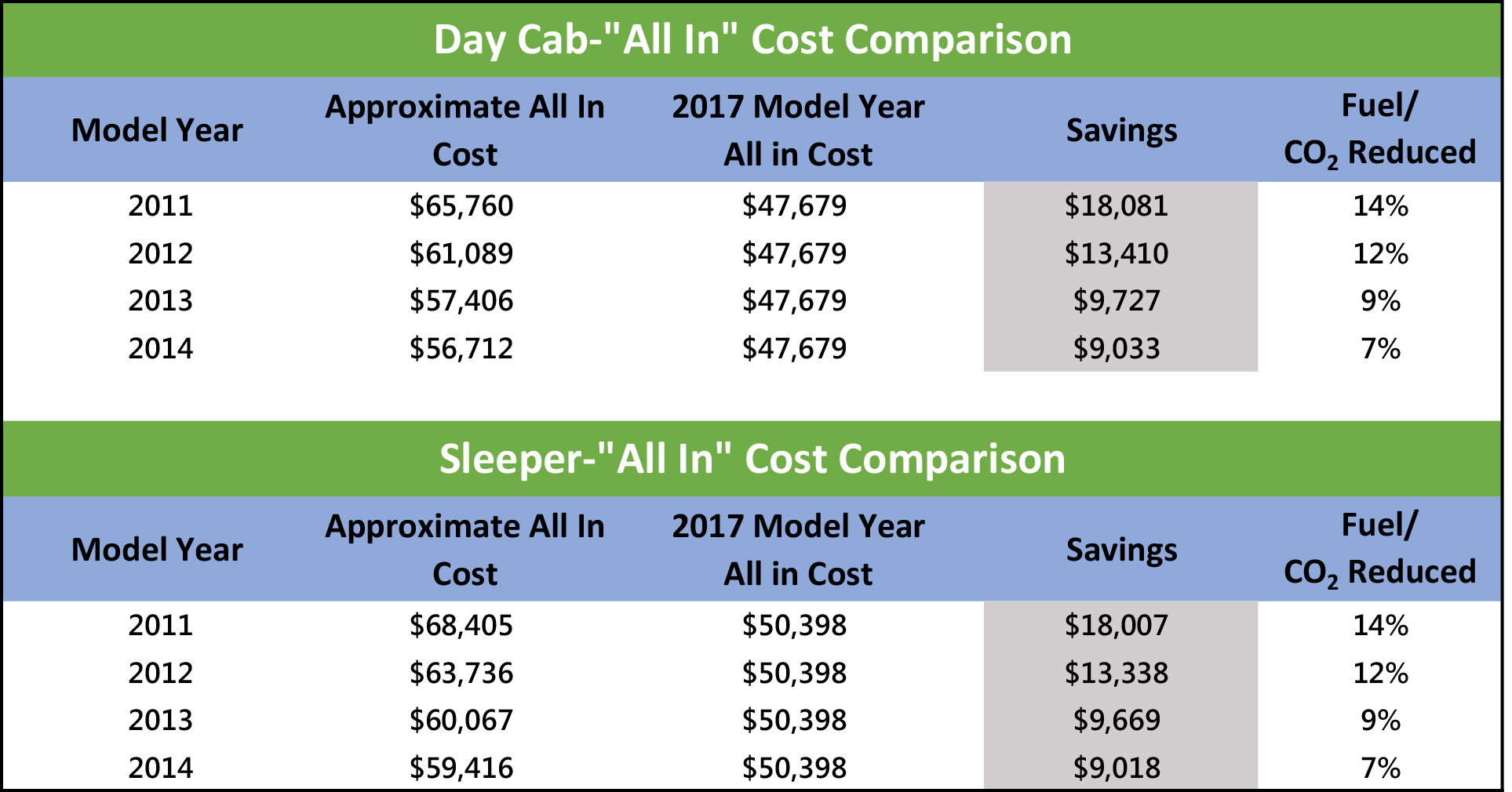 "The industry now has concrete data available that can impact the bottom line in ways never before achievable," said John Rickette, CTP, Vice President of Transaction Management at Fleet Advantage. "By leveraging the latest in business intelligence and analytics software linked to every vehicle in a fleet, we can offer insights that drive profitability throughout the operation."
The Fleet Advantage data index equips truck fleet operators with financial and valuation insights required for asset management to determine when each truck has become economically obsolete and the proper timing of when to replace it with a new, more efficient and less costly model. ATLAAS and its data index were developed out of the Fleet Advantage lifecycle business model, which helps truck fleet operators save millions in savings by replacing older vehicles and shifting their current lifecycle practices to a data-driven model.
About Fleet Advantage
Fleet Advantage serves America's top truck fleets and guarantees the absolute lowest cost of ownership by providing truck leasing and matching proprietary data driven IT processes with fleet analytics using the latest eco-efficient clean diesel technology to achieve optimum vehicle productivity, while reducing fuel and maintenance costs. Fleet Advantage is ranked as one of the fastest-growing privately held companies in the state of Florida and the fastest growing independent truck lessor in the U.S. In 2015 and 2013, Fleet Advantage was also named to Inc. magazines' 500|5000 list of fastest growing companies in the nation. In 2011, CEO John Flynn was awarded the Florida Ernst & Young Entrepreneur of the Year® award in the "Emerging" category.
###