Fleet Advantage, a leading innovator in truck fleet business analytics, equipment financing, and lifecycle cost management made public today a report showing the impact aging trucks have on Maintenance & Repair (M&R) costs, and the savings fleets realize when replacing with newer equipment. The report also provides various M&R data comparisons, actionable tips to lower M&R costs and can be used by fleet executives to benchmark their fleet M&R data and determine how their vehicle lifecycle strategy impacts their overall operation.
Click here to download the report - Mitigating Rising M&R Costs for Class-8 Truck Fleets – Effective Data & Strategies.
According to a section in the report on lifecycle strategy, M&R costs on a 2012 sleeper model-year total $23,100, compared with $2,070 on a new, 2019 model-year truck, providing a savings of $21,030.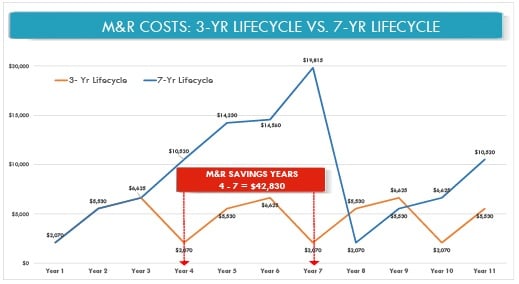 A shorter lifecycle produces long-term savings beyond the first-year. When fleets adopt a three-year lifecycle for their trucks, replacing with new technology in year four, they realize a savings of $42,830 in M&R calculated in years four through seven when compared to a fleet driving the same truck for the full seven years.
In addition to the sections above, the report outlines the following:
In-depth breakdown of maintenance components and costs

Additional "variable" maintenance costs, including technicians

Opportunities to prevent M&R issues

Understanding where shorter asset lifecycles benefit the bottom line

Comparing costs of newer trucks versus older trucks

Why newer trucks reduce maintenance costs
Various M&R comparisons in the report are important in helping fleets identify each truck's "TIPPINGPOINT®" - the point at which a truck reaches economic obsolescence, and costs more to operate than to replace with newer equipment. By adopting this approach for each individual truck unit, fleets can better manage and predict replacement cycles while avoiding variable costs, which can also help manage truck orders and avoid lengthy in-servicing time frames.
"A shorter lifecycle can benefit operational strategies since maintenance is more preventative on newer trucks rather than unpredictable breakdowns and recoveries," said Michael D. Spence, CTP, Senior Vice President, Fleet Services for Fleet Advantage. "Additionally, newer equipment instills more confidence in the driver, and less stress in the cab reduces the number of accidents and incidents, while also increasing driver retention."
About Fleet Advantage
Fleet Advantage serves America's top truck fleets and guarantees the absolute lowest cost of operation by providing truck leasing and matching proprietary data driven IT processes with fleet analytics using the latest eco-efficient clean diesel technology to achieve optimum vehicle productivity, while reducing operating costs. Fleet Advantage is ranked as one of the fastest-growing privately held companies in the state of Florida and the fastest growing independent truck lessor in the U.S. In 2015 and 2013, Fleet Advantage was also named to Inc. magazines' 500|5000 list of fastest growing companies in the nation. In 2011, CEO John Flynn received the Ernst & Young Entrepreneur of the Year® 2011 Florida - Emerging Category award.
###